Knight Doua'dat
Name
Doua'dat
Species
Yautja
Class
Jedi Knight
Appearance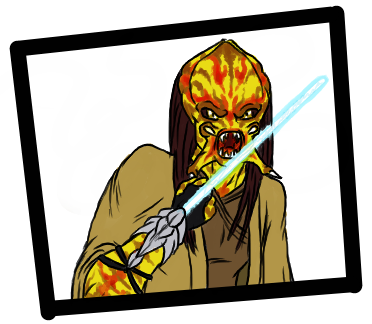 Doua'dat is a young adult yautja female. Standing at seven feet in height she does not have much more to grow, but her body type is still slightly leaner than that of a mature female yautja. Her skin is a darker yellow with brown, red, and orange markings, and she has a few small, short whiskers framing her face. While she wears her "dreds" long, a chunk of them in the back are shorter than the others, the result of a sparring session. She typically wears a plain, unadorned mask while in citadel-standard atmospheres, and lacks the usual elaborate weaponry and armor of Yautja- instead wearing Jedi robes with lightweight armor beneath them.
Background
Yeah, that's about it.
Other
If you feel like it, you can put stuff like special talents or pros and cons down here.